Theatre Hall
22 September 2022
Paul Maar: Whoops-a-box


Adalberta and Borsó have been neighbours for a long time, and their friendship has survived many quarrels and difficulties. They enjoy playing with each other, but their friendship is constantly overshadowed by a disagreement: it's hard to be friends when you feel your partner has better, nicer and especially bigger toys. One day you find out that you can't have a new, colourful, cool toy if your friend's new toy is even cooler, more colourful and more awesome! Then there's nothing left to do but ask for it, if he won't give it to you, take it away, and if he still won't let you have it, then fight, boss and blackmail. Borsó's and Adalberta's friendship is then interrupted by a mysterious stranger who is just in time for their quarrel. He tries to steal the boxes from them with an evil trick, which unfortunately succeeds. The two friends now have only each other's trust to rely on. They learn their lesson, and their friendship becomes strong and enduring, with no room for lies, or evil strangers.

From the age of 3

Cast:
Hell Krisztina
Telenkó-Oláh Tímea
Csata Zsolt/ Mercs Máté Péter

Music by Czapp Ferenc
Choreographer: Katona Gábor
Dramaturg: Oláh-Bebesi Bori
Assistant Director: Mercs Máté Péter
Director: Kiss Gergely Máté
Designer: Schneider Jankó m.v.
The fisherman and his wants-a lot- wife


If you had three wishes what would you wish for?
Peter Fisherman and his wife live their everyday life in a small village on the banks of the Tisza, with their son. Peter Fisherman supports his family by fishing, but his catch is getting smaller by- and his debts are growing every single day. One day Peter finds a fish landed on the riverbank. He takes pity on it and throws it back into the water. The Fish King soon emerges from the foam and rewards Peter for his good deed with three wishes. The fisherman asks the Fish King for the financial security of his family, but when Peter's wife finds out that they have two more wishes left, she wants more and more...
The Fisherman and his Wife is an exciting story of human greed and insatiability. The story is widely known and loved, having been adapted in the past by such famous writers as the Grimm Brothers and Alexander Sergeyevich Pushkin. The Vojtina Puppet Theatre's production sets the story in a Hungarian context, raising awareness of the destruction of rivers in Hungary.

From the age of 4

Written by Markó Róbert
Dramaturg: Nagy Orsolya
Designer: Maróthy Zorka and Lengyel Viola
Mentor of the designer: Bartal Kiss Rita
Music by Czapp Ferenc
Choreographer: Markó-Valentyik Anna
Director: Markó Róbert

Cast:
Baditz Dávid
Főglein Fruzsina
Hajdú Péter
Hell Krisztina
Mercs Máté Péter
Nagy Mónika
Reschofsky György
Telenkó-Oláh Tímea
Tale about the bird nest
-based on an African fairy tale-

Tamala carelessly destroys the baby birds in the nest. She has a long way to go to understand the bird's pain and to make amends. But at the end of her journey, a happier and more fulfilling life awaits not only her, but also her family and the village through her wisdom.
How much do we pay attention to the world around us? Can we understand the words of a bird or hear the stories of trees if we walk with open ears? Are we responsible for those weaker than ourselves? And do we have the right to take what we want, even if it means harming others?
The tale asks many questions that are always timely to reflect on, but perhaps never more so than today.

From the age of 4

Writer: Boráros Milada
Dramaturg: Veres András
Composer: Takács Dániel
Designer: Boráros Szilárd
Director: Lehőcz Zsuzsa and Takács Dániel

Players:
Baditz Dávid
Hajdú Péter
Hell Krisztina
Mercs Máté Péter
Nagy Mónika
Reschofsky György
Telenkó-Oláh Tímea
László the Brave - the cursed mill

His red cap, his pancake batter, his characteristic turns of phrase are known to young and old alike. He lives with us, but never grows old. His most famous feats were performed in the cursed mill, where he conquered ghosts, devils and death. But what happens when these underworld figures return, stronger than ever? To whom can Uncle Molinari turn? Who can cleanse the mill again? Lászlo the Brave, of course! When things get really bad, he just whips out his pancake batter and the new adventures begin...
Living tradition always points the way to the present and provides valid answers for all times. Just like László the Brave.

From the age of 3

Played by Baditz Dávid
Written by Veres András
Designed by Majoros Gyula
Directed by Schneider Jankó

Teeny-Weeny Tales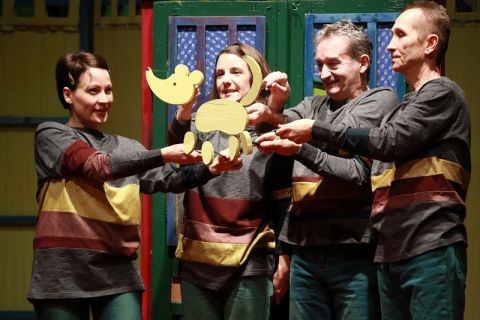 ,,Oh my, once upon a time...
There used to be a teeny-weeny cottage;
There used to live a teeny-weeny little cat..."
- do these lines ring a bell?
Rhyming tales by Móricz Zsigmond have been adapted into a musical tale for kindergartners. The characters naturally show human characteristics, thus we come to see the clumsy wolf or the silly babygoats.
Come on and pull up your socks! Here comes now the story of a rather likeable little mouse, and who knows... It may even happen that at the end of the road the cat will return its dangling tail.

From the age of 3

Tales by Móricz Zsigmond, dramatized by Upor László
Staging: Rumi László
Design: Bodor Judit
Music: Czapp Ferenc
Choreography: Fosztó András
Assistant director: Szabó Magdolna
Musicians: Czapp Ferenc, Papp László

Players:
Hajdú Péter
Hell Krisztina
Nagy Mónika
Reschofsky György

Lucky John, or the Devil with the Three Golden Hairs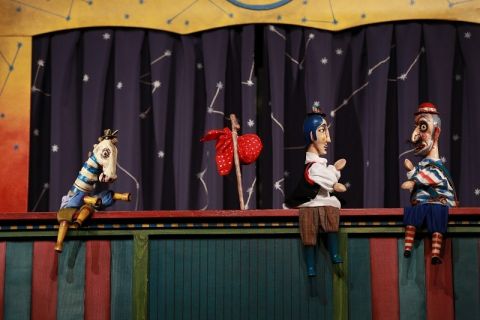 Once upon a time in one country or in another one, in the very middle of it or on the verge of it, here or there, there was a poor lad. He was called Lucky John. And what did he want? He wanted to take the King's daughter as his wife. To which the King said that he would only agree to marry his daughter to Lucky John if he fetches the three golden hairs from the Devil's head.
So Lucky John departed straight for the Hell.
Did he ever get there? Or did he ever get to see the Devil? Did he succeed in fetching the three golden hairs from its head? If you are curious about it, figure it out yourself!
The story comes alive with puppetry over a folding- screen, accompanied with a horn, a mandolin, a kaval flute, a kantale and other instruments.

From the age of 3

Dramatization and staging: Markó Róbert
Design: Boráros Szilárd
Composer and musician: Arany Zoltán
Assistant director: Szabó Magdolna

Players:
Telenkó-Oláh Tímea
Hajdú Péter / Schneider Jankó m.v.

Iron Les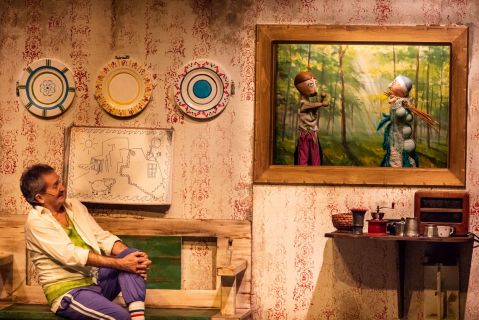 Once upon a time, behind the beyond and even the Glass Mountain, there used to be a king with a son and three daughters, the son as strong as the iron itself, so he was called Iron Les. Apart from being strong, Iron Les was also naughty as if seven devils lived in him. One day he was so angered by his elder sisters' bickering that he wished that they were swallowed up by the earth.
So it happened. Having no other choice left, he set off to find trace of his sisters. So begins Les's journey of exciting adventures to become a hero.
Based on a tale by Benedek Elek, one of the most imaginative and prominent authors of Hungarian folklore, the story is reshaped by this performance by Vojtina Puppet Theatre with traditional puppetry techniques and live music in the auditorium.

From the age of 4

Written for puppet theatre based on a Hungarian folktale by Markó Róbert and Tengely Gábor
Dramaturg: Nagy Orsolya
Staging: Markó Róbert
Design: Horváth Márk
Designer's mentor: Boráros Szilárd
Music: Takács Dániel
Choreographer: Markó-Valentyik Anna
Assistant director: Baluja Petra, Zétényi Karolina
Musicians: Kálmán Péter 'Cucás', Czapp Ferenc, Csurgó Dezső, Papp László

Players:
Asbóth Anikó
Baditz Dávid
Hajdú Péter
Hell Krisztina
Mercs Máté Péter
Nagy Mónika
Reschofsky György

Arika, the Charmer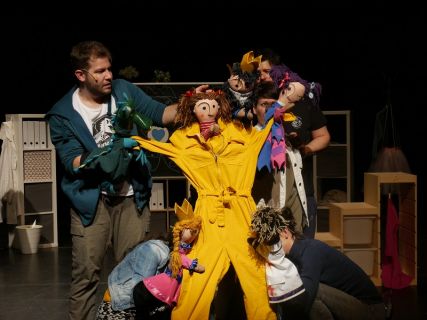 Arika Kerekes, a pupil from Class 2.b at Lumpy Street School, with vivid and lofty imagination would give anything for a bit of popularity. One day, in order to attract her classmates' attention, she makes them believe that she has a rich Swiss aunt living in a theme-park-like mansion, and has invited her over for the summer vacation, and can even take a friend of hers on this dream journey. A rivalry begins in the class for this fabulous vacation in Switzerland as well as for Arika's friendship.
But is it worth gaining popularity at such a price?
The puppet show based on a novel by Erzsi Kertész tells about everyday situations and conflicts in the life of schoolchildren. What consequences does it bear when someone manipulates or even distorts reality?
Is it worth the lies only to appear interesting? What makes someone interesting or special?

From the age of 4

Based on Lumpy Street School: See the miracle! by Kertész Erzsi
Dramaturg: Nagy Orsolya
Director: Kolozsi Angéla
Design: Szőts Orsi
Music: Czapp Ferenc
Choreography: Ágoston Krisztina
Assistant director: Hajdú Péter

Players:
Asbóth Anikó
Baditz Dávid
Hell Krisztina
Lehőcz Zsuzsa
Nagy Mónika
Mercs Máté Péter
Telenkó-Oláh Tímea

Sea-crossing shoes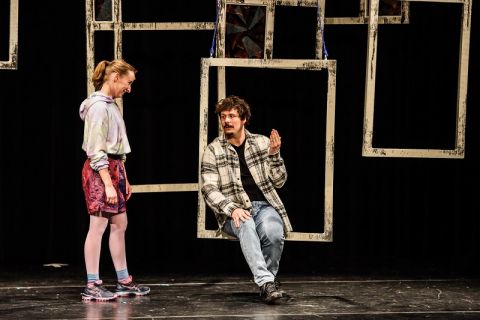 What child doesn't want to go out into the world sometimes? To put on flying shoes, fly far away from their family and be at home in the big world? Especially when you've got the whole family crammed into a tiny apartment, like Zsófi.
Our story takes Zsófi on an adventurous voyage on the wings of sea-crossing shoes.
She travels to Cairo, China, Kukutyin, to the Glass Mountains to swim in the Ocean, to dry in the Sun and the Moon, to Italy for a pizza, to America for burgers, to the Greeks for a saslik. She fills her belly with the big wide world. She quenches her thirst for experience. Along the way, she experiences the thrill of independence and freedom, and more importantly, the thrill of having a companion. And, at the height of the excitement, where better to go than back to where you started: to the family.

The performance was supported by the National Cultural Fund and the Ministry of Human Resources.

From the age of 8

Based on the story by Csenge Virág Zalka, written by: Sára Gábor
Music by David Schuckart
Choreographer: Domokos Kovács
Scenic designer: Grosschmid Erik
Director, designer: Lázár Helga

Preparation of puppets:
Kati Kissné
Nádasiné Szegedi Éva
Richárd Oláh

Lights:
Ágh András
Barta Zoltán

Sound: Czapp Ferenc

Contributors:
Hell Krisztina
Nánási Barnabás
Papp László
Telenkó-Oláh Tímea

Played by:
Baditz Dávid
Főglein Fruzsina
Reschofsky György
Nagy Mónika
Mercs Máté Péter

4026 Debrecen, Kálvin tér 13.
+36 (52) 418-160
vojtina@vojtinababszinhaz.hu