Theatre educational plays
Theatre educational plays
6 September 2022
Saint Margaret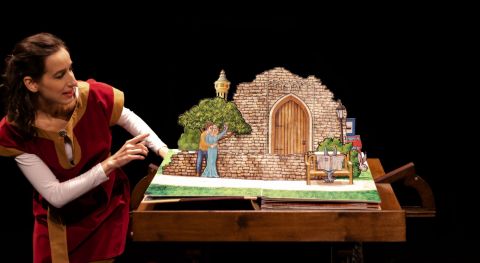 Saint Margaret of the House of Árpád is a fragile princess whose story is neither happy nor tragic. If one expects some gloomy medieval world, where it is cold and everyone suffers, and someone sets an example in a dull and historical way, one is mistaken. Our Margaret is stubborn, headstrong and pure as a whistle, almost blown away by the wind, but still amazingly strong enough to take control of her own destiny. Playfulness and humour, a lot of love, a lot of humility, a delicate scent of roses, this is the story of our Margaret.

Focus: How can I control my own life if those around me expect differently?

The performance is supported by the Ministry of Human Resources.

From the age of 8

Written by: Szálinger Balázs
Designer: Trifusz Péter
Composer: Arany Zoltán
Director: Kovács Géza
Performed by: Telenkó-Oláh Tímea

Family Collage


The story is about a 12-year-old girl named Eszter, who seemingly comes from a well functioning family, and is at the age when she tries to push boundaries with her parents. Unexpectedly, when preparing a school project, she accidentally comes across a document that proves that her dad is not her biological father. Eszter joined the family at the age of one.
The performance focuses on the searching for and the establishing of one's identity as the prerequisite of the development of the self that is aware of his/her flaws and virtues.

Focus: Searching for identity - Who am I really? What makes me me?

From the age of 10-12

Written and dramatized by Róbert Júlia
Staging, TIE consultant, design, music editor: Gyombolai Gábor

Players-drama instructors:
Vadászi Tamara
Magi Krisztina
Zétényi Karolina (as guest)
Haragonics Zalán (as guest)

Clear-out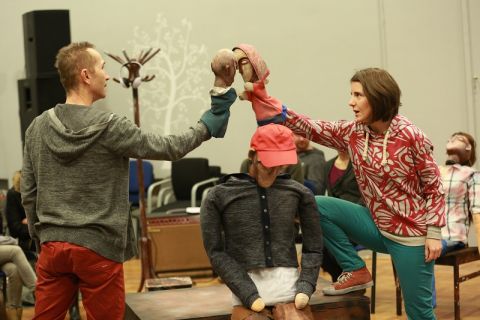 -stories of adolescence-

With mainly highschool and adult audiences in its focus, the performance presents snapshots of two families' everyday life.
From the perspective of a teen girl and a teen boy we address difficulties of the generation gap and communication problems. The highschool and grown-up characters in the story alike seem unable to reason with each other, misunderstand each other's behaviour, and feel they cannot rely on one another. Crises in the family take their toll in the life of teenagers as well.

Focus: What should or should not an adolescent do for independence?

From the age of 15-16

Written and dramatized by Róbert Júlia
Staging: Kaposi László
Design: Pignitczky Ádám
Music editor: Arany Zoltán
Musician: Czapp Ferenc
TIE consultant: Kaposi László

Players-drama instructors:
Hell Krisztina
Hajdú Péter

The forest


Through the story of a woman living in a cabin in the woods and her social worker, they can search for their own answers to questions such as: what does success mean, what counts as a successful life, how can we help properly?

The performance is part of the Street to Home! Association, using the book "Roads in the Forest" by Vera Kovács.

Focus: What does success mean? How can we help properly?

From the age of 17-18

Written by and dramaturg: Róbert Júlia
Directed by: Gyombolai Gábor
Consultant: Kovács Vera, Tóth Melinda

Players:
Vadászi Tamara
Magi Krisztina
4026 Debrecen, Kálvin tér 13.
+36 (52) 418-160
vojtina@vojtinababszinhaz.hu